Monique Anderson - Google Review 2021
Relaxing Rustic Cottage Escape!
Having been to Merland Park over 10 years ago when our children were small, we knew exactly where we wanted to be as a family with our now young adult children in need of a family getaway. Merland Park has it all—water access so we could kayak or fish right from the dock, a pool so we could have some water fun, and those nightly bonfires with fellow friendly cottage renters that really helped us relax after the day's fun. The cottage is yes, very rustic, but it had everything we needed—and AC to boot! We were also pleased to be able to bring our dog with us—when we got him 4 years ago, we KNEW where we could go for a family getaway. Thank you to our hosts, Kevin and Jennifer, for keeping this resort exactly as we hoped, while updating it with a beautiful deck to look out at the waterfront! We look forward to our next getaway at Merland Park!
Ken Brown - Google Review 2021
I finally made it back to Merland Park after not making it for a couple of years. Once again I had an amazing time. It was great being greeted by Jennifer and Kevin like a family member that they haven't seen in a while. The accommodations are always clean and very comfortable. Any questions that I had were answered swiftly. Unfortunately I didn't get out fishing but l managed to visit the local microbreweries that were recommended to me. It is a beautiful area to visit. I do hope that I can get back there soon. Sitting by the water at the fire pit is a great therapy that was much needed. Thanks again to the amazing hosts.
Jessalynn Albin - Google Review January 2019
We have been staying at merland park for years now. The owners and staff there are so friendly and laid back. They are very willing to accommodate all of your needs during your stay there. The cottages are roomy and there is alot of open space on the property for kids to play. One of our favorite places to stay when we come to Picton.
Joan Harvey - Google Review November 2018
For the last 10 years our extended family has been staying at Merland Park for Thanksgiving. We keep coming back because although these are not luxury accommodations the cottages are clean with a working kitchen, comfortable beds, WiFi and a large swimming pool (summer use only) and suit our weekend needs. Over the years individual cottages have been upgraded and added. The owners and the staff are friendly and helpful. Our oven and stove didn't work. Within 2 hours a new one was installed in the cottage and ready to cook our Thanksgiving dinner. Our grandchildren love the nightly fire in the firepit, the open areas to run around and the playground. Although we don't fish, the docking facilities appear excellent with a hut to clean your caught fish. Boats can be rented.
Our needs have changed over the years. The location hasn't. The cottages are very close to downtown Picton and a short drive to the many wineries and the Sandbanks National Park.
Dave Pereira - Google Review February 16, 2018
I've been there 3 times now. Every time I have gone to Merland Park has been a great experience. If you love to fish or just enjoy peace, quiet, and an awesome view. Also the best hospitality from owners Kevin, Jen, and all their staff. If you're planning a trip then you should definitely book some time at Merland Park Cottages.
Robert Clements - Google Review June 25, 2017
Super courteous staff, extremely well kept property, close to all amenities, without being touristy. Will definitely be back.
Great Golf getaway
Merland Park Cottages are great. Just returned from a golf weekend (2nd year) and stayed at Merland Park both years. The cottages are spacious, clean, beds are comfortable and cottages are well equipped. BBQ and chairs/picnic tables on the decks make it very easy to have a great evening after golf. After dinners we enjoy the community fireplace. Always a great crowd. Many of the folks are there to fish, which I hear is awesome, although not a fisherman myself. It is usually a great evening meeting new people and trading fish tales for historic golf shots around the fire. Highly recommend Merland for a home base whether fishing, golfing or just enjoying Picton and Prince Edward County.
Perfect place for city kids!
We came here to rent kayaks and canoes and the people here are so nice. Jesse that's by the dock helped my kids get their life jackets and paddles. My son wanted to go fishing and he helped him put the worm on the fishing rod he gave him some good fishing tips. This place is great! Very nice people.
Julia Germain & Family August 2014
A friend of mine recommended Merland Park when I complained of a cottage rental that we tried to rent for 2 weeks fell apart.  We normally like to rent small private cottages on quiet lakes as we are only a family of 3 plus 2 dogs and having had bad experiences in 'cottage colonies' I was nervous.  However as my husband is an avid fisherman and my son & I like to fish also, we decided to give it a try for 2 weeks.
Merland Park far exceeded our expectations. The walleye fishing was great!  The fish cleaning station was superior! The staff was excellent at cleaning the grounds daily, and was readily available for anything you needed or to answer questions.
I would say that Merland Park is focused more on fishing than a place for families with young children that would like a beach on site but there is a very nice salt water pool and Sandbanks Provincial Parks is 15 minutes away which is one of the most gorgeous freshwater beaches in North America.  Merland has seasonal passes for the guests to use so you didn't have to pay to go to Sandbanks for the day.The cottage was clean and air conditioned with all the basic needs.  It was dog friendly, a big must for me as our aging Basset has some health issues which prevent me from putting her in a kennel. The Lavers family dog 'Grisby' was a big friendly boy whom got along great with our dogs and people.Would we go back?  Yes and we plan on it next year.
Vince Downs Group – November 2013
I would like to thank you again for the excellent stay my group and I had at your resort in cottage #8 and #10.  Fishing was great, and actually the best haul we have had in my 5 straight years of coming down to your resort.  I
look forward to booking again for next fall!!  Thanks.
Vince
Merland Park Fishing Trip, Trevor Stewart - Trip Advisor
The best walleye fishing in the world!! We go visit Kevin's little piece of paradise every year! Merland Park is well set up with deluxe cabins for a great price and the best part of the Bay of Quinte. At the right time of the year we usually pull out a dozen fish a day between 9 and 14 pounds! Monster Walleye! So tell me where else that is possible? Merland Park is the spot!
Merland Park Vacation, Kelly A - Trip Advisor
We visited Merland Park Cottages and Resort the second week of April this year for a little R&R. The proprietors; Kevin, Jennifer and Tyler were very friendly and accommodating. Their sheep dog, Grizby, was a welcome mascot.Our cottage was spotlessly clean and provided all the basic amenities; i.e., cable TV, internet access, air conditioning, gas BBQ, etc. It was situated on beautiful lake front property five minutes from town.
We had a wonderful, relaxing time and could not have been happier. We look forward to returning to Merland Park Cottages and Resort. It meets our high standards.
Stayed April 2013, traveled with family
Great Ice Fishing at Merland Park
This winter we decided to go to the Annual Ice fishing Derby Merland Park puts on. We travelled over 3 hours to get there, but it was well worth the drive. 4 of us slept comfortably in one of the cabins called "musky lodge" which could hold 6 at least. We had a great time catching an abundance of perch just off the shore of the lodge, and we all won great prizes. The Owners Kevin and Jennifer  are some of the best people you will meet and were more than happy to get us anything we needed and were absolutely great hosts! The rooms/cabins were clean, well taken care of and came with everything you need for a home away from home. All of us will definitely be going back more than once next year.
Sean James from Sarnia, ON
The Harvey Group January 2012
Our group always consists of 8 or more guys who are looking for a weekend ice fishing trip. We always try and find a new stop for our getaway, but I think we have found our new annual trip at Merland Park for their perch derby. The hospitality is fantastic we couldn't have asked for better hosts. The cottages are exactly what we were looking for right from their cleanliness to only being mere steps from the bay. The price was right up our alley and we had a ton of fun during our stay. The meals that were offered were excellent and the texas hold em tournament was a blast as were the rest of the entertainment provided. We will definetly be back as long as Kevin and Jen have this derby going. Thanks again guys and gals for the awesome weekend.
Trevor Harvey
Tammy Williams & Family (August 2011) – from - Trip Advisor
Hospitality was amazing, friendly atmosphere. The cottage was updated, 3 bedroom with lots of room to spread out. Kitchen was very tidy and organized with all the essentials needed for daily meals. The bedrooms were a great size with lots of room for personal items to store. Fishing was great off the dock, there is an abundance of boats to rent or the option to bring your own. There is a clean , large size pool to swim in, updated with lots of great chairs to relax on. Had an amazing time at Sandbanks, short trip to the beach . Many attractions close to the resort, able to enjoy the beauty of Picton, cheese factory, fresh vegs and fruits. Restaurants were awesome! I would return for another summer vacation at Merland Park.
Jones Group
At first, I didn't know what to expect about our visit to Merland Park Cottages…I was sent a request on Facebook from an acquaintance regarding an ice fishing tournament happening there. After checking out Merland Park's Facebook page and Merland Park.com, it seemed like it would be a great time so we took a chance and booked our spot. Our accommodations were excellent, very clean and nice and warm. The weekend was filled with great fishing, making new friends and some really fun games were played out on the ice. The prizes were amazing too, lots to be won-including a gas powered ice auger, various hunting and fishing trips plus a huge assortment of other great prizes. The hosts were amazing. Kevin and Jennifer made sure we were well taken care of.
The lunches and dinners were top notch and they made sure that you were full before you left. The dinners were followed by poker, which was also a lot of fun. We are definitely going back next winter for the ice fishing tournament but now we are thinking about checking Merland Park out in the summer for a weekend of walleye fishing and golfing. The cottages are beautiful, hosts are great, there is lots to do there for the young and the young at heart! I highly recommend Merland Park to anyone thinking of getting away…you won't be disappointed!
Dean Jones
St.Catharines,ON
The Lortie Family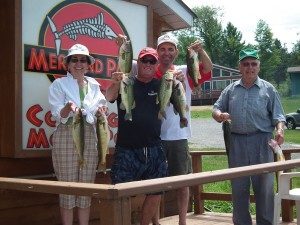 Offering our parents a chartered fishing trip with Kevin for their anniversary gift, was probably one of the best memorable experiences that we've enjoyed since visiting the Quinte Bay area.
Our parents were avid fishermen when they lived in Northern Ontario and quite frankly many cherished family memories took place at Rufus Lake Lodge and Remi Lake near Kapuskasing.
Since my parents have moved to Wellington, we have slowly discovered many hidden treasures of the area, one of which is the wonderful fishing that Lake Ontario provides. Kevin made sure that this fishing experience was successful by bringing us to the hot spots and making sure that everyone had a chance to reel in the big ones! Thank you very much.
Happy Family
My family and I have been to Merland Park at Bay of Quinte several times in both the summer and the fall. The great atmosphere, welcoming hosts and the beautiful resort location keep us coming back year after year. The cottages are clean and cozy with breathtaking views of the Bay.The swimming pool, playground and jumping castle are the big favorites for our kids but my husband and I love to sit down by the lake around the fire pit and watch the beautiful sunsets. The walleye fishing is incredible and having access to boat rentals on site is a huge bonus for us. The kids love to take the kayaks out on the bay and feed the ducks along the shoreline. We really enjoy our time spent at Merland Park and look forward to coming back again next year!
Iles Family
We just wanted to send you a note on how much we enjoyed another year at Merland Park. Our grandkids cannot say enough about the friends they met, and the good times they had. The fishing was excellent. Jason and I landed about 20 walleye Friday morning, prior to them having to head home, and Gay and I went out and did the same Friday afternoon. Enjoy your summer, and we look forward to the next visit.
Our family has spent the last 5 summers vacationing for a week at Merland Park. The owners and their families have been great with us and our grandchildren, who just adore playing in the pool. They also enjoy the short drive over to the sandbanks and playing with the friends they meet there each summer. Personally I like to fish,. I find the docking adequate, and can always find some protected water with a large variety of fish to enjoy. There is alot of history in this area, and you can spend countless hours driving in different directions to study it. Looking forward to our trip next year.
Cottages are private with full amenities. Stayed right on the lake with balcony facing the lake so night time was very quiet and relaxing. Enjoyed the community fire at night. Awesome fishing by day, relaxing by the pool or just reading a book on the deck. Close to town so shopping was steps away. Walmart, grocery store and liquor store are all very close so if you forget anything it's right there. In town there are lots of little shops to spend hours in. Fresh fruit and vegetable stands all over the place so meal time was fresh local produce. Great restaurants nearby if you want to go out for dinner. There is a beach close to the cottages for day trips. Fun, family atmosphere with clean cottages that are well stocked with most of the utensils you need. Great staff and owners. We would go back again and again and again!